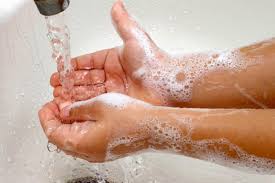 "Hygiene is in your hands, keep them clean," says a popular radio and TV phrase. Of course, it alludes not only to the responsibility of maintaining hygiene in a metaphorical but literal way.

And so there is an annual event every October 15, the day it was established almost a decade ago, in 2008, during the "World Water Week" in Stockholm, Sweden, as a call to raise public awareness that a little of water and soap can save one's life and the life of others.

Millions of bacteria, viruses, fungi, parasites and any other microorganisms can inhabit our hands, comfortably settling between the grooves that mark the phalanges of the fingers that grip everything in clamp, to the folds of the palm of the hand with which we put our upper limbs above the public transport grab tubes, door knobs, elevator buttons, lavatory faucets, and many other private and public objects, which others have touched before, perhaps with clean hands, perhaps not.

Sometimes we cover our mouth without a tissue when we cough, or we squeeze our nose when we sneeze, and in this way we expel from our bodies those invisible beings, which will make a nest in other people possibly defenseless or weakened from the immunological point of view. Or vice versa. This is how epidemics spread, when we do not think much about ourselves ... or about others.

Before eating food, after the physiological evacuations, when arriving from public places to our home, after managing equipment of collective use such as computers and diverse tools, before going to sleep, it is necessary to carry out a process of sanitization.

Handwashing then is essential to maintaining one's own and other's health, individually and socially. And in this regard, in every public restroom must have minimum conditions of hygiene, soap and water. I speak, of course, of the baths of hotels, cafes, libraries, work centers, universities, institutes, schools, kindergartens, where on many occasions the slightest attention of this kind is absent.

The most cautious people carry small soaps inside their purse or backpack, but without water there is not much they can do. Others purchase antibacterial liquid in the shops to rub their palms and fingers, sprays or wet and perfumed wipes. However, nothing replaces effective handwashing, from the wrist to the tips of the fingers and between them, rubbing with fruition and rinsing well. Drying, of course, would have to be with a clean towel or toilet paper.

In some places this may be impossible to achieve. Nevertheless, in other places where indispensable minimum conditions exist, these standards are neglected, which contributes to the deterioration of the health of their environment.

Whenever possible, and not only on October 15, practicing the correct and complete washing of hands will result in greater strength for ourselves and the well-being of others, and will reduce the possibility of becoming ill or aggravating the health of many people. Let us always keep it in mind.