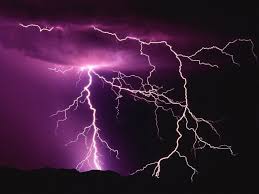 Although they look the same, they are not. Lightning is briefly summarized as an electrostatic discharge into the atmosphere that occurs between two clouds or between a cloud and the Earth's surface.

Lightning occurs when the electrical potential difference between two points exceeds a limit of approximately 30,000 volts. It is then that the dielectric rupture of the air takes place turning it into an electric conductor and producing an electric shock in the form of lightning.

And the lightning bolt? The lightning bolt is the flash produced by the discharge, which releases so much energy suddenly that the force is manifested, in part, as light.

Lightning is one of nature's most powerful and devastating forces; however, of the humans who receive its impact, 8% survive with relatively minor injuries.

Using satellite images, it has been estimated that every second about 44 thousand lightning strikes occur in the world.