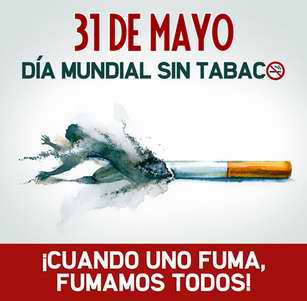 Although it should be observed every day, the World Health Organization points to the last day of May to highlight the importance of rejecting the pernicious smoking habit, which claims too many victims each year, whether active or passive smokers.

This is an insane habit that begins as a diversion, usually in adolescence, in order to adjust the personal image to that of the group that surrounds us, an assertive gesture that shows dependence, poverty of judgment and insecurity, instead of freedom, originality and individual ability to choose our behavior without taking into account the prejudices of others that can harm us.

Getting used to cigarettes or tobacco harms the individual and binds him to consumption even if he changes his friends in adulthood, until the person in question begins to depend more and more on nicotine and other addictive chemical compounds that cigars contain, and seeks them with anxiety, without being able to dispense with his possession, even to the detriment of his personal economy.

On the other hand, having a piece of paper lighted between the lips, with a dry vegetable chopped into its cylindrical form, which burns with the same temperature of more than a thousand degrees, is a danger to life, looking at it coldly.

This heat penetrates through the mouth to the ducts of the respiratory system and causes burns at the cellular level, imperceptible in the moment, since the cut tobacco also has analgesic properties that numb the sensation of tissue damage.

Little by little, the less resistant people succumb to the problems caused by smoking: dental cavities, yellow and stained teeth, bad breath; this is only at the superficial level within the oral cavity. Later, tissues become ill from various diseases: gingivitis, sores, up to oral cancer.

Similarly, smoking can further harm the body: the pharynx, larynx, esophagus, trachea, and lungs can be affected by oncological problems of difficult relief, which produce great pain, which, of course, have an unfortunate end.

Not only active smokers, those who choose to launch themselves into allegedly attractive addiction, are liable to suffer and die from these ills: their children, parents, partners, co-workers and close friends may be considered to be passive recipients of tobacco smoke, which also causes allergies, pneumonia and, in the case of children, is a bad example to follow in life, according to research, they will begin their addictive practices much earlier than their parents.

The mass media at certain times have been examples of this behavior. In past decades, the cinema was filled with seemingly glamorous images, with actresses and actors who were required to smoke. But those times were behind the rise each year of deaths caused by a habit considered to be a doorkeeper for the entry of more dangerous ones such as the use of so-called hard drugs.

It is the duty of every family, educational institution, company, national state, to confront this evil with effective campaigns against smoking, a vice that does not represent national, local or family traditions, nor does it merit excuses or pretexts for its protection and development.

Only with research, scientific updates, demonstrations and strong messages it will be possible to focus on the popular awareness to promote the clear and precise assessment of the consequences of smoking for the health of each human being in present and future times.