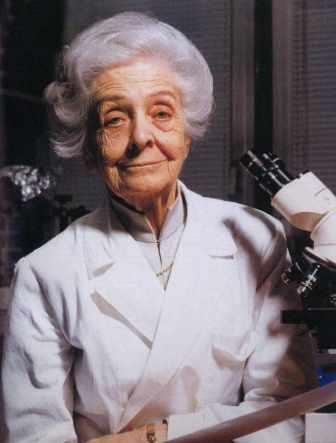 Much remains to be said and to do justice on the presence of women in the visible history of mankind. Women have been considered to be pets for centuries, and also prevented from voting until the last century. Even today women are abused at home in many countries, and they are paid for the same work an amount of money much lower than men. Her initial presence was amazing in Sweden when she received the Nobel Prize in several disciplines.
Two years after the establishment of the award in 1901, this was awarded to the Polish Marya Sklodowska, better known as Marie Curie, who received it in Physics (1903) and Chemistry (1911) and then her daughter Irene Joliot Curie in Chemistry (1935). She led the way other women have followed to shine in science or humanist subjects.
Thirty years ago, in 1986, an Italian scientific won recognition by discovering the Nerve Growth Factor, which is very useful for use to alleviate, delay or minimize neurodegenerative diseases like Alzheimer's Disease, so today research continues, even after the death of its discoverer in 2012.
Rita Levi Montalcini is the name of this famous woman, who received the award along with Stanley Cohen, author of the discovery of Epidermal Growth Factor, which is used in burns to regenerate skin.
She was born in Turin in 1909; her mother was very talented for the arts and her father was an engineer, who was passionate about mathematics, whose rigor and prejudice prevented him from driving his daughters initially towards high academic background, as happened later, much to his regret, when Rita enrolled medicine at the university of her hometown.
Rita's career was interrupted by the fascist advance and she then worked as a doctor for the Resistance and the Allies. In parallel, she started doing experiments in a makeshift laboratory set up in her own bedroom, secretly, with chicken embryos, a project that she continued after World War II, when being hired at Washington University in St. Louis, United States, where she remained for 30 years.
So she discovered the Nerve Growth Factor (NGF), with whose prospects she experienced to complete a corpus that deserved the Nobel Prize in 1986.
Back in 1962, her reputation as a doctor of sciences enabled her to establish a research unit in the Italian capital, and from 1969 to 1978 she ran the Institute of Biology of the Cell from the Italian National Research Council in Rome. Although her official retirement occurred in 1979, she continued her work in the Institution.

In 1999, she was appointed an FAO Ambassador. She also has, amongst other distinctions, the Feltrinelli International Prize in Medicine, Italy, and the Golden Plate Award from the University of Texas, and the Silver Cup from the University of Washington, United States.
Affected by the mark left by the Manifesto for the Defense of the Race, issued by Benito Mussolini in 1936 to legally segregate non-Aryan Italian citizens, in an interview with El País in 2005, Rita said, Genetic manipulation should not be used. We have no right to give birth to babies on demand. It is not acceptable to manufacture children with blond hair, green eyes, such property or such other. That goes beyond the limits of morality. I reject it absolutely."
Rita Levi Montalcini died at 103 years, but she always considered herself to be a girl of 20. From a stout ethical formation, her witty and sympathetic phrases which encourage other researchers to follow her path, surprise even those who are not so young, "Keep your brain excited, active, make it work, and it will never degenerate. (...) The key is to keep curiosities, make efforts, have passions... The body becomes wrinkled, it is inevitable, but not the brain!
Image taken from: EBRI (European Brain Research Institute RLM)
http://www.ebri.it/en/categorie/1_rita_levi_montalcini_2_remembering_rlm