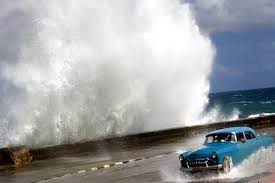 In Cuba, the mean sea level rise could reach up to 27 centimeters by 2050 and up to 85 by 2100. This will mean a decrease in surface area and a rise in salinization. To solve problems such as those the so-called Tarea Vida was born, which is a State Plan for confronting climate change, a commitment that collects tactical visions that look at prevention, preparation, response and recovery in the face of these possible realities.
The strategy approved by the Council of Ministers on April 25 this year will require progressive investments, with short (2020), medium (2030), long (2050) and very long (2100) deadlines. With five strategic actions and eleven tasks, aimed at addressing the effects in vulnerable areas, an integral project is presented, in which priority areas and places are identified.
As a result of more than a hundred danger, vulnerability and risk studies throughout the country we can now know some figures. Since the middle of the last century, the average annual temperature has increased by 0.9 degrees Celsius. In addition, the major dangers of climate change have been coastal floods caused by extreme weather events, natural and built heritage impacts, and the rise in the level of the sea.
Research also estimates that by 2100 there will be a 37% reduction in the availability of water potential and that there is accumulated deterioration in coastal protection elements, including sandy beaches, wetlands, mangroves, forests and swamp grasslands, as well as ridges of coral reefs.
Actions for life

The main strategic actions taken to alleviate many of the aforementioned problems include:
• Not to permit the construction of new housing in threatened coastal settlements that are predicted to disappear by permanent flood and the most vulnerable. Reduce population density in low-lying coastal areas.
• Develop constructive concepts in infrastructure, adapted to coastal flooding for low-lying areas.
• Adapt agricultural and livestock activities, particularly those with the greatest impact on food security, to changes in land use as a result of the rise of the sea level and drought.

• Reduce the crop areas to the coasts affected by saline intrusion. Diversify crops, improve soil conditions, introduce and develop varieties resistant to the new temperature scenario.
• Plan in a timely manner the processes of urban reorganization of the threatened settlements and infrastructures, in accordance with the economic conditions of the country.

The work also focuses on identifying and implementing actions and projects to adapt to climate change, including coastal protection of cities, relocation of human settlements, integral recovery of beaches, mangroves and other natural protective ecosystems, hydraulic and coastal engineering works, amongst others.

Another essential element is to ensure the availability and efficient use of water; directing reforestation towards maximum protection of soils; halt the deterioration of coral reefs, rehabilitate and conserve them, as well as implementing other measures in programs, plans and projects related to renewable energy, energy efficiency, food safety and health. And the areas and places prioritized at present are the southern of the provinces of Artemisa and Mayabeque, the north coast of Havana and its bay, the Special Development Zone of Mariel, Varadero and its tourism corridors, tourist keys of Villa Clara and of the north of Ciego de Ávila and Camagüey; north and south coast of Ciego de Avila; north coast of Holguín; the city of Santiago de Cuba and its bay, and territories threatened by the rise of the mean sea level.
Tarea Vida is a comprehensive proposal that bets on the future and in which we all have our space of contribution.