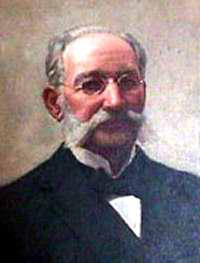 More than 30 years of hard work made Carlos Juan Finlay go down in history as the discoverer of the mode of contagion of yellow fever, and creator of the scientific doctrine of the contagion of infectious diseases from an animated non-human carrier called a vector, which is defined as metaxenic transmission.

With dedication and professionalism, he came to specify that the transmitting agent of this disease was the Aedes Aegypti mosquito, known until then as another species of the genus Culex. That hard work took decades of persistent and risky research at the end of the 19th century and the dawn of the 20th century.

Despite the obstacles in his path, the American Medical Commission undeservedly wanted to adjudicate the discovery to themselves, but the transcendence of the fact became increasingly evident and finally the merits of this eminent Cuban scientist and wise man were publicly revealed in his discovery.

On December 3, 1908, the date on which Finlay was 75 years old, he was honored at a solemn session of the Academy of Sciences of Havana, where he was decorated with the Cross of the Legion of Honor by the then Minister of France.

It was learned when he died that he had many other merits and recognitions, among which were the Pasteur Institute and the Mery Kingsley Medal of the University of Liverpool, which was conferred on those who made great contributions to the fight against tropical diseases.

Dedicated to the noble and humanitarian cause of giving his contribution to universal health, Finlay was always characterized by his simplicity, humility and investigative perseverance, which over the years has earned him the admiration and respect of the world, and he was a worthy representative of Cuban medicine.

What better occasion than this to celebrate on the Day of Latin American Medicine all those who fight for health, even in the most inaccessible places, especially the prestigious Cuban doctors and practitioners.