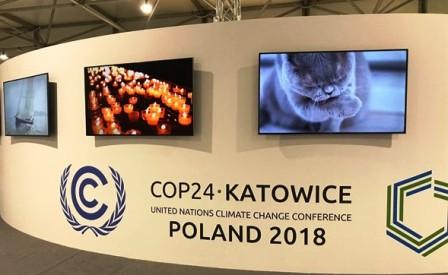 With the experience of the implementation of the State Plan for Confronting Climate Change, Life Task, in the face of the vulnerability to the impacts of this phenomenon due to its insular condition, Cuba attends the XXIV Conference of the Parties on Climate Change (COP 24) in Poland.

The Cuban delegation is headed by Elba Rosa Pérez Montoya, Minister of Science, Technology and Environment, who participates in the high-level segment that meets in the Polish town of Katowice, where it is expected to advance in the final implementation of the 2015 Paris Agreement.

Cuba ratified this agreement in December 2016 and defends the principle of common but differentiated responsibilities, with a balanced treatment between the elements of mitigation, adaptation, finance, technology transfer, capacity building, losses, damages and response measures.

To enforce the Paris Protocol, in 2017 the Caribbean government approved the Life Task, which contains five strategic actions and 11 tasks, including those aimed at reducing population settlements in coastal areas, diversifying and adapting crops to new scenarios, preserving sandy beaches and ensuring the availability and efficient use of water.

Studies carried out in the country show that there is a 1.5 to 2 meter annual retreat of the coastline, while the National Tide Network reports an increase of 2.14 millimeters per year in the acceleration of the average sea level rise.

The COP 24 in Katowice is the penultimate stop on the road to 2020, the year in which the Paris Agreement will enter into force and has as its motto Changing together, with the main objective of making an inventory of the achievements so far of the countries, in addition to adjusting the levels of targets necessary to achieve the purposes of the convention of the French capital.