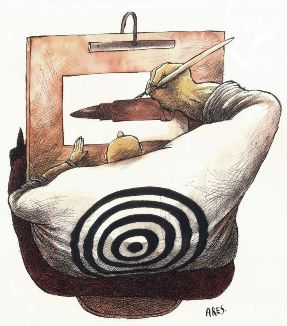 The Victor Hugo House in Old Havana exhibits "Je suis Charlie Hebdo", the personal exhibition by Cuban artist Arístides Hernández (Ares), which recalls the attack in Paris on January 7, 2015, against the satirical French weekly newspaper.

The very title of the exhibition, in Spanish "Yo soy Charlie Hebdo", reveals the awareness of the artist with that event, which cost the lives of twelve people. There is also evidence of his interest in reaffirming the presence of the art of caricature and satirical drawing in the artistic and political panorama.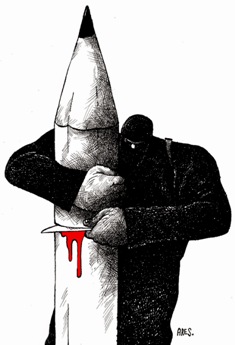 The exhibition was curated by Lisa del Prado, and occupies two areas of the venue, which is dedicated to promoting French culture in Cuba.

A group of independent works have been placed in the Jean Valjean room, which is located on the ground floor. These are pieces that address, through sarcasm or humor, issues related to the role of the media, manipulation and the common citizen in the conflicts of public life.

For its part, a compilation of Ares' works for French media such as Le Monde or Courrier International is in the exhibition space on the second floor. The ability of the artist to enrich current articles, generally complex and varied, with an accurate graphic accompaniment, is of particular importance in this area.

In both sections we can see, as is already common in Ares' work, the predominance of a critical approach, which draws attention to the issues seen from their contradictions and "dark sides". It can be said that "Je suis Charlie Hebdo" is at the same time a retrospective of the work of this artist and a space for reflection.

The exhibition highlights the quality of the creator as a citizen of the world, whose concerns go beyond the limited national space to become universal. It is demonstrated once again that art and political commitment are not contradictory, but authentic allies.