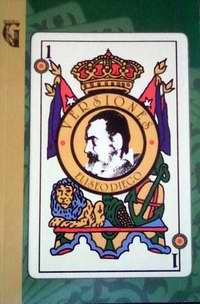 A short, captivating and poetic style characterizes the book Versiones by Eliseo Diego, published under the label Ediciones Extramuros in 2015.

The volume was first published in our country in 1970 by Ediciones Unión, but as early as 1967 it had appeared, along with Divertimentos, in Editions Arca / Montevideo, with a prologue by the Uruguayan writer and poet, Ida Vitale.

Many of the texts that form part of Versiones had been made known in the mythical magazine Orígenes, founded by José Lezama Lima, that is, a third of the texts that appear here were written in the forties and fifties.

"Versiones and El oscuro esplendor are two of my father's favorite books -expressed the researcher Josefina de Diego in the prologue of the text-, and she said it on many occasions, even affirming that she had written them simultaneously."

The specialist adds that this has its logic, since the date of publication of the books by Eliseo Diego does not generally correspond with the date in which he conceived the poems, because the writer wrote his books as a whole, maintained a coherence, and therefore, each book has a strange but solid unity.

In this volume the reader's attention is drawn to the style, for there is an express will to contain, to say more with less, it is a very brief poetic prose, contained, full of evocations, subtleties, where the fantastic and the real intertwine and coexist in a disturbing harmony.

According to the art critic "in Versiones things are suggested, situations are mentioned, they are like flashes of memory, sometimes they are only the attempt to catch a not very visible side of the reality that has been 'attended in all its purit ', with the purpose of giving rise to as many possible meanings.''

Eliseo Diego portrays the obsessions that disturbed him throughout his life: good and evil, memory and oblivion, the lost and recovered paradise, the cognitive possibility of poetry and of being in poetry. These are vital experiences that he managed to express in this book dissolving the boundaries between poetry and prose.

However, in probity, how could we classify this enigmatic book: prose? poetry? Poetic prose is the most likely meaning because Versiones is a book that lies on a strange border. On one occasion when asked about Divertimentos, Eliseo Diego did not hesitate to state: "When I wrote it I did not even think about the possibility of the verse (...) If you compare it with the previous book, you will observe a greater concentration of meanings: these brief stories approach the prose poem - that so many years later I tried in Versiones."

On another occasion when asked how he would describe Versiones, the Cuban poet and essayist replied: "These are stories, poems, poetic prose, I suppose it intends to be a bit of everything."

In the pages of this book we will look with different eyes, we will rediscover everyday things with a new meaning and we will be surprised with a polished prose, full of mystery that immerses us in a passionate and beautiful reading.

The poet, narrator and essayist Eliseo Diego was born in Havana on July 2, 1920, and was a notable member of the emblematic group Orígenes and author of an extensive poetry and essay. He is undoubtedly one of the outstanding figures of the Cuban and Hispanic American Literature of the 20th century.

His first book of poetry, which is entitled En la Calzada de Jesús del Monte (1949), is considered to be a classic of Hispanic American literature. He had previously published two short story books: En las oscuras manos del olvido (1942) and Divertimentos (1946).

With an extensive poetic and essay work he also devoted himself to literary translation. He was a professor of English and American literature.

Amongst the many awards achieved by Eliseo Diego are the 1986 National Literature Prize and the Juan Rulfo International Prize for Latin American and Caribbean Literature in 1993 for his whole work.

The Colombian writer Gabriel García Márquez defined him as "one of the greatest poets in the Spanish language" and the outstanding Chilean poet Jorge Teillier said, "He is a wise and silent spirit, an exceptional poet. In his voice he resurrects the childhood of all, which was about to go astray forever (...) Nicolás Guillén is the best-known poet, but Eliseo is the other voice, the most intimate vision, the epic of prodigious childhood, the voice and sensitive image of the inner worlds, the presence of intimate mirrors that subtly rescue the multiple faces of those who were and will be during childhood (...) There is something mysterious and almost clandestine in the voice of Eliseo: it is an underground breath that vibrates the communicating vessels between life and death."