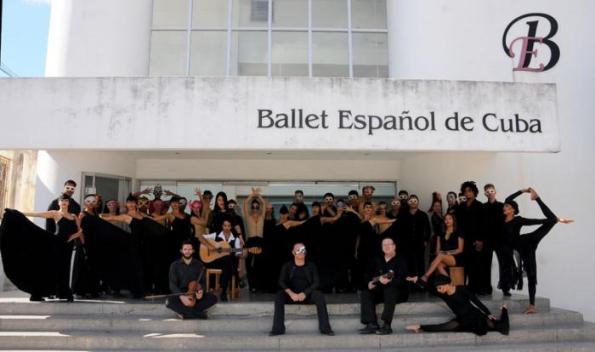 The renowned Ballet Español de Cuba, directed by maestro Eduardo Veitía, presented, this weekend, a concert program entitled Ascendencia Hispana.
During the event, in the Sala Avellaneda of the Teatro Nacional de Cuba, we enjoyed eleven works that showed -with elegance and professionalism-, the different facets and styles of this dance ensemble that unfolds and assumes with naturalness the bolero school, flamenco, farruca, popular and regional dances, as well as guajira/flamenca, rumba flamenca, ballet, bolero, among others.
The pieces were created by renowned choreographers such as Francis Núñez, Leslie Ung, Pablo Eguea, Manuel Díaz, Marieta Romero, and Veitía himself, and through these performances, a journey through the history of the BEC, which in 2022 will celebrate its thirty-fifth anniversary.
The BEC was founded in 1987, under the name of Conjunto de Danzas Españolas, and has left its mark in countries such as Costa Rica, Ecuador, Colombia, Nicaragua, Mexico, Turkey, China, the Principality of Andorra and Spain, where in 1992 it won second prize in the Primer Certamen Internacional de Coreografías y Danzas Españolas y Flamenco (First International Competition of Spanish and Flamenco Choreographies and Dances).
In three decades of intense work, the Ballet Español de Cuba has been recognized as the maximum expression of the genre in the country, for the respect and serious investigation in the technical and choreographic work that has allowed it to create its own style within the panorama of Spanish dance.
With a repertoire that ranges from classical to the most genuine flamenco and fusion, based on works that are highly recognized on the world stage.
Currently, the Ballet Español de Cuba, under the direction of Eduardo Veitía, is nourished by young talents who graduated from its Artistic Teaching Unit, which trains and continues the values of Spanish Dance.